Upcoming Events and Announcements
Granny's Waffle Sandwiches – Now Open!
Here are a few of the items on the menu:
The Brag Waffle – Crispy waffle with bacon, raspberry jam, avocado and gorgonzola cheese.
Thai Chicken Waffle – Crispy waffle with chicken breast, Thai spicy peanut sauce, red cabbage, shredded carrots and scallions.
Smoked Salmon Waffle – Crispy waffle with Norwegian smoked salmon, chives, crème friche, lettuce, baby dill and cream cheese.
Grilled Cheese Donut – Add ham (extra) to take it up a notch! So good!
We also have salads and desserts along with coffee, tea, sodas and more!
Come on in to see our full menu!
Visit us on Facebook

Granny's Delivers!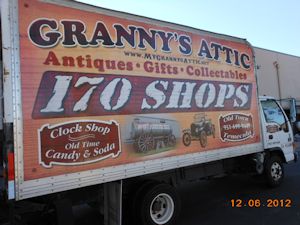 Local delivery starts at $3500.
A favorite destination for antique and collectible shoppers since 1989, Granny's Attic Antique Mall showcases over 30,000 square feet of merchandise under one roof. With over 200 shops to browse from, Granny's literally has thousands of unique treasures to enjoy. Here's just a sampling of what you"ll find there: old world European imported goods; vintage glass and clothing; antique slot machines, jukeboxes and pinball games; heirloom turn-of-the-century solid oak and walnut furniture; pottery and stoneware; a library stocked with books, magazines and advertising memorabilia; Jerry's Clock Shop and Repair, and much more. Be sure to visit Granny's old fashioned soda and candy shoppe.
Granny's is a three time award winner and was voted Best Antique Mall, Largest Antique Mall in Southern California, and The Best of the Best (antique malls category) in 2010. We're centrally located and just 45 minutes from San Diego, or 90 minutes from Los Angeles. To get there, take the Rancho California Road exit off the I-15, head west for one mile then make a left onto Vincent Moraga Drive, then left again on Felix Valdez. Granny's is down about ¼ mile on the left hand side.
When planning your next vacation or antique shopping excursion, be sure to visit Granny's Attic, located at 28450 Felix Valdez (across the river from Old Town), Temecula, California 92590. Also, be sure to visit our other mall, Old Town Antique Faire, located about one mile away at 28601 Old Town Front Street, Temecula, California 92590. Both malls are open 7 days a week from 10 AM - 5 PM.
For more information, call (951) 699-9449 or Click Here to send us an email.